SUSTAINABILITY AND MUSLIM TOURIST MARKET AMONG KEY TOPICS ADDRESSED AT SARAJEVO BUSINESS FORUM 2022
SARAJEVO, BOSNIA AND HERZEGOVINA, 16 MAY 2022: With travel bans being lifted worldwide following more than two years of the COVID-19 pandemic, questions arising post-pandemic include how will the industry players strategise to meet the needs of the market, what are the new travel behaviours, how should destinations position themselves, and how can investors play a role to reactivate tourism again?
At the 11th Sarajevo Business Forum (SBF) from 11 to 12 May 2022, and particularly at "The Power of Tourism to Fuel Economic Growth" panel session organised by Bosna Bank International in cooperation with USAID, global experts weighed in on the matter offering great insights, with a focus on tourism growth and investment opportunities in Bosnia.
According to Anita Mendiratta, Special Advisor to the Secretary General of the UNWTO, "The value and values of tourism have changed post-pandemic and subsequently the investment opportunities have changed."
She encouraged destinations and tourism industry players to move away from the numbers game, i.e. counting tourist arrivals and tourist receipts, as measures of tourism goals and success.
Instead, it was important to focus on sustainability, but with a wider lens. "Now it's about economic sustainability, social sustainability, cultural sustainability, environmental sustainability, and spiritual sustainability as well."
She said that post-pandemic, "travelers and investors demand that any tourism development must be good for the people and the place, not just for the experience of the tourist."
Panel speaker Dato' Dr. Mohmed Razip Haji Hasan, Director-General, Islamic Tourism Centre (ITC), highlighted the Muslim market as a potential source market for Bosnia. "The Muslim market is a new ground and new segment that's probably been overlooked for the last decade," he said.
The size of the Muslim population is huge and not geographically limited to any particular country. There are 1.9 billion Muslims all over the world, 1.1 billion in the OIC countries and 255 million in ASEAN. "The diaspora of Muslims in other parts of the world such as Europe, could also be a key source market of tourists for Bosnia," he said.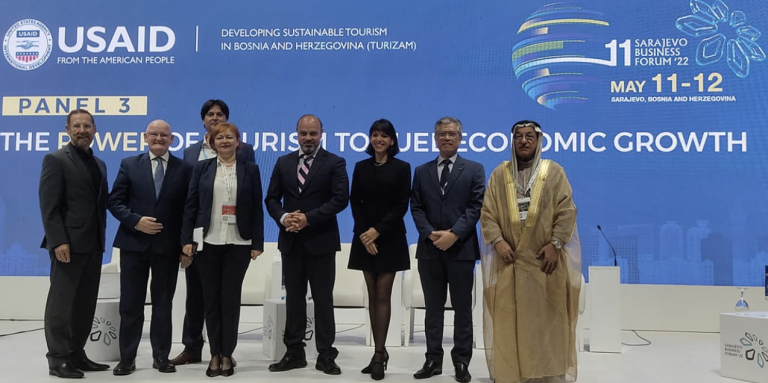 Dato' Dr. Mohmed Razip felt confident of Bosnia's future growth in tourism and that the tourism industry players should prepare themselves well to serve the market better.
"The Muslim tourist market is professional, they like to travel in style, they spend more, and are looking for values to enrich their travel experiences," he said.
"For Muslim travellers, they are asking for a little bit more to fulfil their faith-based needs. They want to perform prayers, they want to enjoy halal food, and have special area for their families to enjoy in comfort."
ITC's participation in the Sarajevo Business Forum was part of its double mission to position Malaysia as a destination of choice for Muslims as well as to drive interest among global destinations towards the potential of the Muslim tourist market.
ITC also took part in the 4th Malaysia Tech Transfer Showcase organised by Human Life Advancement Foundation in conjunction with SBF 2022. It was an opportunity to showcase Muslim-Friendly Malaysia, along with ITC's initiatives towards strengthening the Muslim-Friendly Tourism and Hospitality concept through its consultancy work, research, training and capacity building, and standards development.
—– END —–
Islamic Tourism Centre (ITC) is an entity under the Ministry of Tourism, Arts and Culture, Malaysia tasked to develop the Islamic tourism segment for Malaysia. It advocates for Muslim-friendly tourism (MFT) by offering research and market intelligence, training, industry development consultation, Muslim-friendly tourism and hospitality (MFTH) service standards and certification, and information exchange.
In 2021, ITC received two key awards, i.e. Strategic Business Alliance Award at The BrandLaureate World Halal Best Brand E-Branding Awards 2021, and Best Islamic Tourism Leadership Gold Award 2021 by Malaysia Tourism Council. These are recognition of ITC's efforts and endeavours in formulating new strategies to meet the new normal of the business environment to ensure business continuity and sustainability, notwithstanding its role to develop and grow the Islamic tourism segment in Malaysia.
In addition, Malaysia was recently named top country in the world in the MFT sector by the State of the Global Islamic Economy (SGIE) Report 2022 by DinarStandard in partnership with Salaam Standard and supported by Dubai Department of Economy and Tourism.
Malaysia also retained the top-ranked destination in the MasterCard-CrescentRating Global Muslim Travel Index (GMTI) 2021, a position it has defended since the launch of the Index in 2015.
These recognitions are an added motivation for ITC to continue to strengthen its efforts in being a prime mover and leading institution to ensure Malaysia is at the forefront of MFTH.
For further details, kindly contact:
Islamic Tourism Centre
(Ministry of Tourism, Arts and Culture Malaysia)
Level 13, No. 2 Tower 1, Jalan P5/6,
Precinct 5, 62200 Putrajaya, Malaysia
Tel: 03-8891 7177 or via email itc@itc.gov.my
For media-related matters, contact the Corporate Communications team:
Anis, Manager, +6012 321 9137, anis@itc.gov.my
Nadhirah, Sr. Executive, +6019 356 0530, nadhirah@itc.gov.my
Aina Izzati, Asst. Executive, +6010 266 2535, ainaa@itc.gov.my
Follow ITC on these social platforms:
Facebook: Islamic Tourism Centre
Twitter: @itc_my
Instagram: @itc_my
Youtube: Islamic Tourism Centre